This book wasn't bad. But it needed to be longer to fully develop the characters, and it felt a bit forced, especially the romance. It didn't change how I think about books like Garth Ni'x's Old Kingdom trilogy did. Yet it was still lots of fun. And I'm reviewing a bit differently today.
-Shanti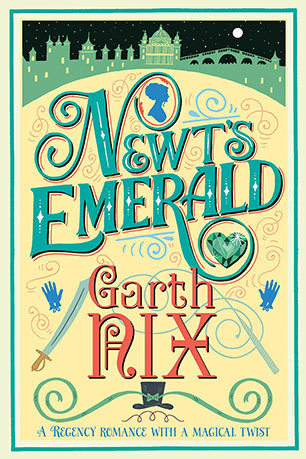 A Regency romance with magical elements, featuring an eighteen-year-old heroine and a dashing young hero – and a case of mistaken identity.
After the Newington Emerald is stolen at the height of a conjured storm, eighteen-year-old Lady Truthful Newington goes to London to search for the magical heirloom of her house. But as no well-bred young lady can hunt the metropolis for a stolen jewel, she has to disguise herself as a man, and is soon caught up in a dangerous adventure where she must risk her life, her reputation.and her heart.
Balancing twin roles as a young lady coming out in her first season and as an intrepid young man up against an evil sorceress isn't easy, but Truthful has to manage it. Her father's life and even the fate of England may depend upon her recovering the Newington Emerald!
A recipe for an awesome, yet slightly forced romance
One Heroine
A pint of deception
A sprinkling of kissing tension
Handsome Bachelors with a past (add to taste)
A title or two (Lady, Duke, Sir etc.)
Some suspicious circumstances
Society events
Take the heroine and stir gently, adding in the Circumstance once she is sufficiently perturbed. After three days of margination in Circumstance, add the Handsome Bachelor(s) to taste. This is also the ideal time to add deception. Pour half a pint of deception, and add a tablespoon at all Society events. Allow to soften. Then pour pure seawater over Heroine and Bachelor(s) and ta-da! You have Romance.
A Recipe for suspicious circumstances
It can be hard to find the right kind of circumstances to suit your story. I've found that this one is ideal for alternate-universe Regency Romances
A dash of history
One treasure of unknown power and worth
The Streets of London
One Tablespoon of magic
One and a half measures of Powerful People Desiring of Revenge.
3 conveniently serendipitous encounters.
One Bone Wand
Take the history and mix it thoroughly with magic. Leave for three hundred years. At this time, add One of your measures of Powerful People Desirous of Revenge. Two years later, add the bone wand. Then wait for nine years. At this time, place the Treasure of Unknown Power within the mixture, but hide it from outside forces. Then fold in the other half measure of Powerful people Desirous of Revenge. Over the next three weeks, add Serendipitous Encounters at times when they will strengthen the flavour of the Circumstances. After this time, your Circumstances are ready to use.
A recipe for somewhat predictable adventure
It can be hard to work adventure into your story when your heroine lives in the early nineteenth century. She obviously can't begin her adventure as a girl, and so must cross dress. Here's how to carry that out most effectively.
One heroine, bereft of Precious Powerful Jewel
Corset, ensorcelled Moustache, and men's clothing.
Two Horses.
Handsome Bachelors, to taste.
One Surprising storm
Two ounces of kidnapping.
5 teaspoons of Resourcefulness.
Three Cousins
One Alias
One barrel
Adventure, unlike Circumstances, doesn't need nearly so much time to bake. You create Nineteenth century adventure like this. Place Bereft Heroine in a pan. Add two spoons of resourcefulness. Then bring gently to the boil, adding the Corset, Ensorcelled Moustache, Men's clothing, and Alias as you do so. Now dice the horses (I promise it's not too bloody) and stir. With the horses, sprinkle in Handsome Bachelor(s), then pour into the almost watertight barrel. Pour in Surprising storm and both ounces of kidnapping and shake. Place mixture in serving dish, then garnish with Cousins. Thus, adventure is created.
A recipe for Female heroine, restrained. (ideally used as dressing)
Great aunt
Historical values of early 19th century
Noblegirl, who hasn't been presented yet
One cup of confusion
Object of fabulous wealth
Shake all ingredients together until well mixed. Your heroine is ready. Use in all required situations in the early nineteenth century.
Can you share any bookish recipes? What did you think of mine? Have you read any Garth Nix yet? Tell me in the comments!