Walk on Earth a Stranger is a pretty hyped title. But I got an audiobook, then listened to it on a very long bus ride (it was really the only redeeming feature of the bus ride) and it was fabulous. I really recommend this one to anyone interested in history or amazingness.  It's also probably the best book about US geography you'll ever read (though really. I know the order of states from Georgia to California now. I particularly loved the unique concept, vivid writing and characters who came alive to me.
-Shanti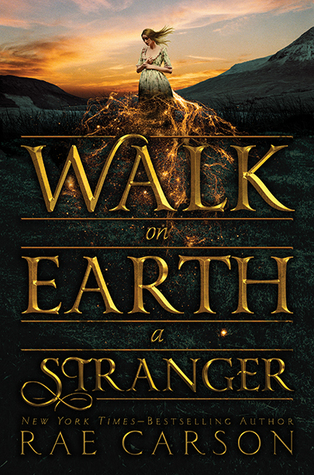 Gold is in my blood, in my breath, even in the flecks in my eyes.
Lee Westfall has a strong, loving family. She has a home she loves and a loyal steed. She has a best friend—who might want to be something more.
She also has a secret.
Lee can sense gold in the world around her. Veins deep in the earth. Small nuggets in a stream. Even gold dust caught underneath a fingernail. She has kept her family safe and able to buy provisions, even through the harshest winters. But what would someone do to control a girl with that kind of power? A person might murder for it.
When everything Lee holds dear is ripped away, she flees west to California—where gold has just been discovered. Perhaps this will be the one place a magical girl can be herself. If she survives the journey.
The acclaimed Rae Carson begins a sweeping new trilogy set in Gold Rush-era America, about a young woman with a powerful and dangerous gift.
So you may have read the blurb above, but in case you haven't: WoEaS is about a girl named Lee/Leah, who was born in Georgia, after the gold rush, but had the ability to sense gold in the earth (which is a pretty awesome concept to be honest), but there's no other magic in this book, apart from oblique mentions of water dowsing. So when she hears about the California Gold Rush and her parents are killed, and he uncle takes over, Lee leaves for California.
This idea was pretty great. I mean, I know that the announcement about the Gold Rush was just trying to get people to settle the West, but they didn't, and I felt with the Argonauts, that desire for a new place to belong. And it was done so well. There was always something new, another tension or surprise hidden within a net of lacy writing. The plot never stopped moving, but was realistic, because there are times like Independence, Missouri- constant searching and waiting, and the brothers aftermath in a messy morning, and the inability to speak out when there are poisoned blankets ready to smother someone else in real life too. (in a metaphorical sense, obvs)
Carson's writing is just as fabulous as I found with the Girl of Fire and Thorns books. With just a few words she can make a scene come to life. I saw the relentless blood (multiple times), I felt the tension between the Missouri men and everyone else, felt ill from the cholera, thirsty in the desert, I almost wept when Athena died (I think it says a lot about this book that it's been almost a week since I finished, but I still remember the cow's name) And the dialogue was excellent, so painful, so true to life, even if I don't talk like that. I loved the accent that the audiobook narrator used, and that made Lee so real to me. I said earlier that the writing was vivid. And that's true. It can be a good thing and it can be bad, but either way, you are there with the characters. I also learnt a valuable lesson from Walk on Earth a Stranger- that travelling in the nineteenths century sucked.
The dynamic created between the people of the story also delighted me.  Carson has this quality of making you root for the characters, no matter what happens (unless they're the bad guys) We have Lee, who dresses up like a boy and struggles with living a lie, and Jefferson, her best friend, and then the Joyners, who are misguided and somewhat elitist, and who hire Jefferson and Lee. And of course there is Teresa and the Hoffmans (I ship Teresa and Jefferson and then I was sad) And the college men and Major Craven- everyone is detailed, and sort of form a community after the wagon train gets together. (the time before that was interesting but not so important) I really liked seeing Lee change and become more confident in herself and her ability to do things and make friendships, and I liked how the lies created her, but so did her past. Jefferson was also a really interesting character, as was Free Jim, and I liked how the diversity was incorporated, because historical fiction is so straight and white (and also depressing, seeing what they do to outsiders. Because I would not be accepted because of who I am in a lot of places historically)
Also the themes of violence, honesty, identity and fear were very well done in this book. I also loved how religion was part of the story (even if the pastor creeps me out) I guess my only complaints would be several rather spoilery things.
Have you read WoEaS? Are you going to? How do you feel about historical fiction and narratives centred around journeys? tell me in the comments!