So, thanks to Cait's excessive fangirling, I decided to read the Raven Cycle. It was more or less as fabulous as she said. I listened to the audiobook, which was perfect for  the delicious prose. Anyway, I finished Blue Lily, LIly Blue a couple of days ago- here are my thoughts! Note that this will contain spoilers for The Dream Thieves, and The Raven Boys. (Oh, and little PSA: We've added a book review Index. If you want to find a review of a book by us, look there. My review on goodreads and our review here are all there, so go mad!)
-Shanti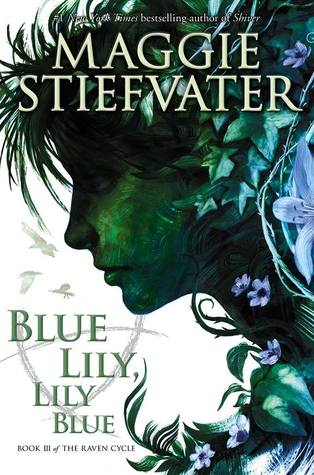 There is danger in dreaming. But there is even more danger in waking up.
Blue Sargent has found things. For the first time in her life, she has friends she can trust, a group to which she can belong. The Raven Boys have taken her in as one of their own. Their problems have become hers, and her problems have become theirs.
The trick with found things though, is how easily they can be lost.
Friends can betray.
Mothers can disappear.
Visions can mislead.
Certainties can unravel.
I saw this thing where you review a book using words that fit it, so I'm trying that today. I loved a lot of things about Blue Lily, Lily Blue, but my reviews can get sort of repetitive so lets' try this out
Startling-Atmospheric-Magical
Startling
This book startled me. Not in a oh-my-goodness-it's-so-good way (though there is a lot of that is well) , but because it shouldn't work. Obviously, I haven't read the Raven King, but it would have been pretty easy to write the entire quest for Glendowr into one book. In a sense, the first three books contain slices of the 'main' plot, and spend the rest of the time beating about the bush. But. Instead, the plot is deep and rich. Layered, if you will. It startles me how all the pieces are beginning to intertwine in this novel, and it is so much better than a simple plot in one book. The plot development is so startlingly well done.
And then there's the characters. (I listened to the audiobook, so every voice stands out to me) The words the say, the choices they make, startle me- not because they don't make sense, but because they are so right. They fit in with the characters, and I never expected that. Moments- Blue yelling at an old man who liked her legs- Noah standing in the pool table- Gwynllian beckoning Blue from her midnight room- stand out to me. And it startles me that I like them so much. Even Piper, who always seemed so evil, is written just so- and just right.
The writing, beautiful in it's exact description, startles me too. Adam's 'bland insouciance', Gansey's fear of hornets. It is vivid and alive in my mind.
Atmospheric
Atmospheric can be good, but it's pretty creepy as well. I'll be honest. Some creepy things go on in this book.  Caves and hornets, tombs and holes and fear and abyss's and bones. I don't like creepy things. I'm uncomfortable with them (especially that ending) So the creepiness is probably the reason why this doesn't get five stars. But I also liked how powerful that was. It added atmosphere. The prophecies, the death, the mirrors, the bodies- everything is more intense in this book (and that includes the kissing almost kissing) So even though I was very freaked out at times, the way that the characters responded and developed and changed in response to the creepiness was mesmerizing too. The atmosphere that the creepiness, as well as the characters delightful interactions created, was pretty awesome though.

Magical
Like I said already, the writing in Blue Lily, Lily Blue is magical. It shimmers. It rises off the page in a mirage that is absolutely absorbing. As I was telling my mum though, what really makes Blue Lily, Lily Blue special is the relationships between the characters. Some of the people are in fact magical 8cough* Adam*cough* but the relationships are special too. They are realistic. Magical in their imperfection, and resilience. Maura murmurs in the dark. Blue is labelled an ant. Greenmantel banters affectionately with his wife partner. Ronan and Blue lend each other light in the encroaching dark. Noah offers sarcastic comments. Malory reveals his fears and his dog. There is beauty in these relationships. There is truth in these relationships. There is magic in how they are written. I loved that- and everything is so unique.
There's real magic, too, but Stiefvaters' choice to emphasise the magic of people is what makes me truly happy.

Queens and Kings.
Kings and Queens
Blue Lily, Lily Blue
Blue Lily, Lily Blue
Crowns and Birds
Swords and Things
Blue Lily, Lily Blue
Blue Lily, Lily Blue
So have you read this? Do you like this new review format? Do you like audiobooks? I haven't even covered half of the awesomeness that was this book, so tell me your thoughts in the comments!