It is very unusual for me to give a book beneath three stars on goodreads. Love in the time of Global Warming got one (though technically 1.5) I really hated it for a variety of reasons especially because it was totally different to my expectations.  So here is my review, with a lot of anger, because the pretty cover betrayed me.
-Shanti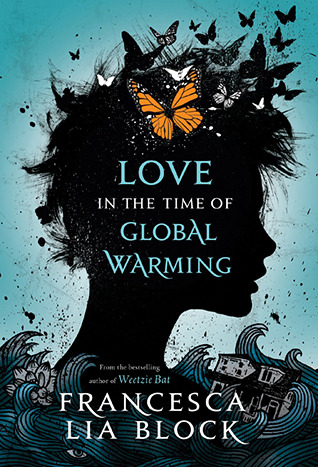 Her life by the sea in ruins, Pen has lost everything in the Earth Shaker that all but destroyed the city of Los Angeles. She sets out into the wasteland to search for her family, her journey guided by a tattered copy of Homer's Odyssey. Soon she begins to realize her own abilities and strength as she faces false promises of safety, the cloned giants who feast on humans, and a madman who wishes her dead. On her voyage, Pen learns to tell stories that reflect her strange visions, while she and her fellow survivors navigate the dangers that lie in wait. In her signature style, Francesca Lia Block has created a world that is beautiful in its destruction and as frightening as it is lovely. At the helm is Pen, a strong heroine who holds hope and love in her hands and refuses to be defeated.

I hated this book. I don't hate many books, and this was partially created by expectations vs. reality. I expected: some romance, an acknowledgement of the global issues surrounding the wasteland humans create for themselves, an adventure based on the Odyssey, and maybe some poetry. What I got was: a poorly written retelling that tried way too hard to echo the Odyssey, a disaster that didn't make sense, undeveloped characters and a weird romance that I could not appreciate in any way, and a wannabe retelling. So let's explore these dramatic statements of mine a little more, okay?
One of the main problems I have with modern/realistic apocalyptic stories ( LitToGW was not that at all , as it turns out) are that they are ignorant. After all, the most likely apocalypse in our future is global warming in a globalised world. Despite it's title, LitToGW totally ignored this aspect, referring instead to a mysterious even known as the "Earth Shaker" who's details were never fleshed out (On a side note, how did everyone know it was called the Earth Shaker if they were all alone after it happened?) Very few details were fleshed out- there are clones/giants (allegedly Cyclopes) this Tibetan Goddess pops up for no reason, the actions scenes are all over the place, and suddenly there are magic powers. Maybe this lack of detail is part of the allegory but I was confused and disgruntled.
The retelling aspect also irritated me. Maybe I haven't read the entire Odyssey (Full disclosure: I started once, but I was too bored to continue) but I know the details (Thanks Percy Jackson and seventh grade English) This books assumes that the reader knows nothing of the original story and draws all the parallels for you It's not that I think that the original story shouldn't be involved in a (Rook does it subtly and well) but I thought that the entire 'retelling' was too literal. Call me sophisticated, but I liked symbolism, something that is proven to work very well in retellings. LitToGW tried waaaaay too hard and I hated it. It didn't make sense.
I don't know much about gender politics, but I disliked how they were treated in here (spoiler actually) Aside from that, I disliked that progression of romance. Clearly they were going to end up together, but one day it kissing and the next it was much more, even though not that much had happened between, and they didn't really know each other (Unless you count getting high together as getting to know)
The characters didn't really make sense either. Everything we know about them is shown, not told Even the tattoos aren't allowed to naturally develop their own symbolism- instead, it is crudely pointed out at every turn. Pen tells us all this stuff, trying to be an articulate John-Greenesque teenager, but she just looks pretentious. There are constant references to impressionism and cubism and other art movements that didn't matter at all . And the other character just seemed to be there to make a team. I especially hated Hex, and as for Tara…. Merk was just a waste of 'emotionally charged' space. The bad guys didn't develop at all either. It was all too brief. (Not that I wanted to read for any longer)
There were other things I disliked. The writing was trying to be poetic, rather than flowing and graceful like real beautiful writing is.
[A sign] that cruelly reads EAT (Cruel in two ways-because we're hungry and we don't want to be eaten)

See what I mean? It's shown, not told.

I'm getting immune [to the hells] in some ways, but I think that may be a sign of how I'm losing my mind

In some ways? It can't make up it's mind. ( And I didn't even begin on the Odyssey related quotes.) I didn't like the writing and none of it was in the right place (explaining, developing, clarifying or describing confusing things) And the ending really bothered me (spoiler alert: It didn't make sense) And the (non-sense making) powers were just odd plot devices.

In all fairness, I didn't find this book hard to read. The writing is grating, but at least it's not difficult to get into. I also appreciated the theme of family, and how Pen is searching for her family amid the ruins of her world. And te concept was good. It just was terribly executed. But that's why this story doesn't lose all of the stars.
Love in the Time of Global Warming tried to be too many things at once. A retelling, a romance, a fantasy, a post apocalyptic story… I fell in love with the title, but it wasn't what I was promised. I disliked it. But if you're prepared for a theme of confusion and maybe some anger, then you're welcome to try to read it.
What's the last book that you read and hated? Feelings on confused retellings that use Marquez titles? Have you read this?