For the last month or so, I've been listening to the audiobook of the Wrath and the Dawn. And it was good, let me tell you. The culture and the writing and the amazing characters (especially Despina). So now, oh privileged people, I invite you to read my review. I know that a lot of people who have read this probably haven't been to the part of the world that has been described, and neither have I. But I live in northern India, which has a whole lot of Mughal palaces. Since the Mughal's come from the same area as where the Wrath and the Dawn is set, there are a lot of architectural similarities, so I hope you enjoy looking at the pictures, as well as my review.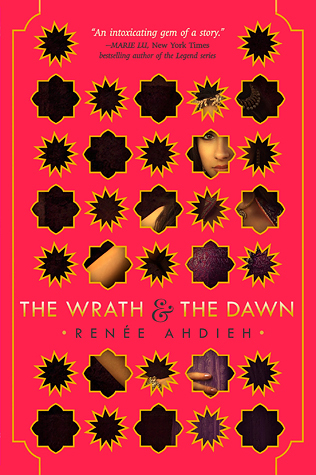 This book was utterly beautiful. I had a few wee issues but as a whole enjoyed the setting, characters, language and retelling aspect.
I love the idea of a book set in Persia. I know that there are a few other Middle Eastern/Thousand Nights books coming out this year- A Thousand Nights and An Ember in the Ashes for example- but I like this one a lot (As far as I know, however, it's pretty different to either of these). Anyway, the food and the descriptions of salwar kameez and the pavilions made me feel quite at home, familiar as I am with northern India and it's Islamic heritage. I loved the descriptions, especially the food, and the language was delightful, transporting me to the place and time, so I felt very present. It didn't skimp on the description and you definitely get a sense of where it is. I listened to the audiobook, which made me absorb everything much more, and I really recommend it. The descriptions are on the heavy side, so if you don't go for excessive wordiness, you might want to avoid this one.
The characters are fascinating to read about. From the beginning I was aware that Halid had a secret, but the nebulous nature of that secret made the gradual reveal enticing. Halid's position of power and his awkward wielding of it made me really empathise with him because I have so much power because he dealt with the same insecurities as everyone else, yet bigger repercussions. As Sharzahd and Khalid fall in love, you learn more about their characters and personalities. Sharzahd's evolution in her quest for revenge, in sharp contrast to falling in love, made for excellent character development. Her revenge for the best friend thing could have been held on to more, but how torn she was between her understandings made sense. The friendship that she develops with Despina is delightful, and I liked that Despi was never afraid to call her out on her faults. Through Sharzahd's flashbacks I learnt more about her relationship to Tariq, but as a whole I was disappointed with how he was represented. He didn't even appear that much, and when he did, he was grumpy and scowling, not fun loving and funny like Sharzahd remembered. His entire plan could have been so much more fleshed out. Jalal was also an interesting character, and I hope to find out more about him in the sequel. And who the heck was Raheem? (sorry for name misspellings, it's the audiobook)

I know, of course, of the basic premise of A Thousand and One Nights. I found that the first half of the Wrath and the Dawn followed that much more closely than the second, after Shazi and Khalid fell in love. Then the plot dives into less charted (wonderful) territory of it's own. There could have been more magic- I'm expecting that in the sequel- but in general it was interesting. Palace conspiracies are often written about, in fantasy and historical fiction in particular (and this is *sort of* a mix of both) but the people and guards and recurve bows and generals lushness of it all added to the charm, perhaps because of my familiarity with it. The plot kept me fascinated, and it definitely heated up in the end. The romance was a big deal, but there were other elements, which I was perfectly happy about.
The language, as I mentioned earlier, is wonderful. It has a lot of descriptive language, but the dialogue is also enticing and the action scenes are brisk and fast paced (without being gory). There are some descriptions, like the oft mentioned 'tiger eyes' which become somewhat overused, but as a symbol I can understand why they were there.
So the few things I didn't like: an audiobook is a full immersion and I listened to this over about a month, so it took me quite a while to get a grasp on all of the names. And I would have liked to see more magic. There were a few characters- like Khalid's ex-tutor and Sharzahd's crazy-angry father– who could have been introduced in the next book, because they didn't achieve much where they were. I also would have been interested in a bit more religion, or maybe actual places or times that you could recognize (outside of the stories, that is), because a lot of Islamic culture and Persian places were drawn on, and I would have liked to have that solidified. I can appreciate that this is fiction, however.
With crystalline writing, a fascinating premise and background, and a cast of characters full of secrets driving the plot, The Wrath and the Dawn is an excellent book, and I recommend it to anyone who loves feisty heroines and a different culture in a retelling.
So, have you read the Wrath and the Dawn? Are you going to? And have you been to any of these buildings? (serious bonus points if you have an you're not in my family)