I just finished reading Fangirl by Rainbow Rowell. It has a beautiful cover and in this case you can really judge it by this. The prose inside is strong and sooooo addicting.  It is about 18 year old Cath, and identical twin, as she adjusts to college and living away from her twin sister, Wren. Cath uses her obsession with writing fan fiction to cope, and creates webs of words around her without truly trying to make friends. Wren turns to late night parties and a lot of drinking. Meanwhile, they still have problems at home; their dad has had a mental disorder ( maybe OCD?) since the girl's mother left when they were 8. The story follows Cath  through her first year of college as she make friends with her roommate Reagan and writing partner Nick as well as Reagan's unfiguredout (it's a word now, grammar freaks!) friend Levi. Cath also encounters a dilemma when talking to her fiction-writing professor, who says fan fiction is plagiarism while Cath thinks that creating a 'new world' is too hard.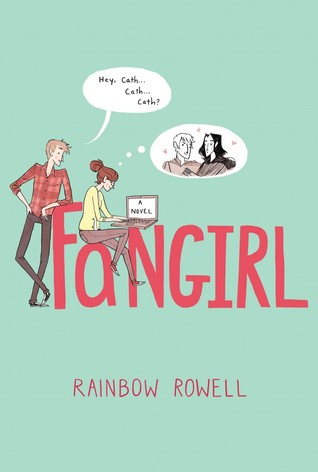 If you like fangirling, empathetic characters, romance(not that any YA books don't have romance) and contemporary fiction. I haven't read Eleanor and Park, but you'll probably like this one too since it is the same authour.
Parts I liked:
Cath is obsessed with Harry Potteresque series about wizard Simon Snow and is writing an entire novel about him and his nemesis Baz, who are in a relationship. At the end of every chapter and occasionally within it, excerpts from the original novels and some of Cath's fan fiction are included. They are really fun. Also, some of the secondary characters such as Reagan and Art (Cath and Wren's dad) had a really interesting depth.
What I empathised with:
Shanti and I are twins, just like Cath and Wren, who look similar but are very different.  I empathised with beifng separated like Shanti and I are right now. I also learnt about people who aren't good at reading and made mental notes not to judge people who don't read as much as I do.
Anyway, it was a really addicting book, told in a good way. The third person was a welcome change from the first person of most contemporary novels, and I really just enjoyed it.